Testimonials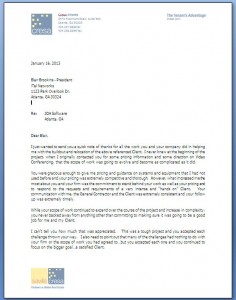 "I just wanted to send you a quick note of thanks for all the work you and your company did in helping me with the buildout and relocation of the above referenced Client.  I never knew at the beginning of the project, when I originally contacted you for some pricing information and some direction on Video Conferencing, that the scope of work was going to evolve and become as complicated as it did.
You were gracious enough to give me pricing and guidance on systems and equipment that I had not used before and your pricing was extremely competitive …"
Read Entire Letter
– Bob Cloyd, Cresa Atlanta
"When we decided to move our office in April 2010 we turned to Blair Brookins and the staff at iTelNetworks for all our telecom, cabling, A/V and IT needs. The whole team at iTelNetworks is knowledgeable, professional and a pleasure to work with. They did a fantastic job and were able to deliver us a great solution at a reasonable price. I would recommend iTelNetworks to any company that is moving or opening up a new office. They did a great job in handling our telecom, voice and data cabling, A/V and IT needs. Thanks iTelNet!"
– Todd Eichhorn, Visionaire Partners
"When we moved our collection agency, we hired Blair and ItelNetworks to handle the change of phone/data providers, the equipment transfer and cabling. As the phones are our source of revenue we needed it done right the first time. The move went more smoothly than we had hoped for. Blair handled all aspects of the transfer for us allowing us to worry about other things. His techs were friendly and knowledgeable and did a fantastic job. We will use Itelnetworks for any future projects will recommend them to anyone in need of a phone consultant."
– John Younggreen, Carter-Young, Inc.
"In addition to being a dear friend, Blair has been a leader in low voltage cabling and technology services for as long as I've known him. I have and will continue to refer him to my clients and friends because of his attention to detail and service to clients. These qualities are why his business continues to flourish and his client satisfaction list grows."
– Chrissy Smith, Dekalb Office
"From the beginning, iTelNetworks has been a valuable resource for BlueMed Spa. As one of the top 55 Medspas in the world, we rely on our business phone service to keep our spa running smooth. The team at iTelNetworks compared all the top phone and equipment providers and found BlueMed Spa the best deal in the marketplace for our T1, business Internet access and business phone system. The overall package they recommended has served us well over the years and they continue to provide us great support. We are glad iTelNetworks is our telecom consultant and we look forward to working with them for years to come."
– John Stupka, Owner BlueMed Spa
"As the largest franchisee of Express Oil, we needed to partner with a telecom consultant that could handle all our voice and data needs. iTelNetworks more than filled that need. Switching one location from analog business lines and DSL to T-1 service has its challenges. Switching 15 locations in three different states would have been an enormous task without the support and knowledge of iTelNet. They worked diligently with all the providers and made sure each location was set-up and ready for new T-1 service. The T-1 service was scheduled and installed in a timely manner and their staff of telecom engineers made sure we had the least amount of down time possible. We now have more lines and higher bandwidth at a lower overall cost!"
– Adam Fuller, Owner of Express Oil Change
"For years we have depended on IiTelNetworks for all our telecom needs. It's nice to have a single point of contact while operating multiple restaurants and businesses."
– Chris Hadermann, Owner Big Ketch, & Dry Bar
"When opening a new restaurant, the last thing you want to worry about is telecom services. That why we have partnered with iTelNetworks to handle all our phone service and equipment needs. They truly are a full service telecom company that handles everything from voice and data cabling, T-1 install, business phone/voicemail systems and business WiFi. Their staff of licensed low voltage and telecom specialist are always friendly, fast and professional. They work with us from when the restaurant is a white box until the last business phone is program and employees are trained. It truly is nice to have a single point of contact you can call for all your telecom needs. You make the job of owning and managing restaurants much easier."
– Andrew McKoski, Owner Tin Lizzy's Cantina